ANASTASIA // Russian history, princesses, thoughts + tag
So I've been in the biggest Disney princess mood lately. Don't ask me why… i'm just a dork okay? AND I HAVE A LOT OF FEELINGS, hence this post. Anastasia isn't really a Disney princess but she is a historical one which I'll get into later. Anywayssss let's go!
---

I take history as a subject at school and we've been doing The Russian Revolution. I went into this movie having forgotten all about it. We've had the dvd (!!) and I've seen it before and had a vague overview of it. Anyway off topic and I'm rambling now… I didn't know all that much. Then I start watching it and it's literally what I've been doing at school which is SUPER awesome. I also researched it and there was a theory of a lost princess named Anastasia.
About the plot: it all flowed very nicely. It was captivating and not at all boring. It's funny and entertaining. I haven't mentioned iit yet: GO AND WATCH if you haven't!

Rasputin (the villain): He's your typical bad guy. He's just so evil and determined which is want you want in a villain.
Bartok (weird creature thingy): He's that comic relief who isn't all bad and I just loved what his character did to the story.
Vladimir (friend): He didn't really do much for the story. I liked him and he was important at the end.
Empress Marie (grandmother): She's like the main "push" of the story. She's why everything happens.
Dimitri: He's one of my two favourites. Like I love him. Such a great character. Say hi to the adorable dance loving idiot.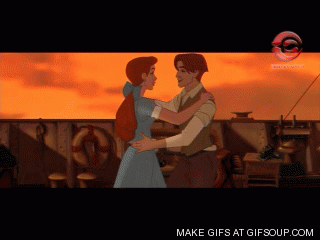 Anastasia: I frickking loved her. Like Anastasia is such a great main character. I loved the songs and the relationship she has with the other main characters.
the banter was spot on. these two <3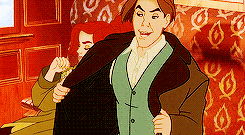 I love the music
it's beautiful
love to hate tropes are my new fave thing
I love Dimitri & Anastasia
such an amazing movie GO WATCH IT NOW
BOOK TAG
This tag was created by Caden @ A Thousand Books To Read and I wasn't tagged… neither do I have anyone to tag because I don't know who've seen it. If you want to di it though, consider youself tagged*
*yeah I know I'm constantly doing tags (instagran) but the WORST at tagging people
1) JOURNEY TO THE PAST (a book that reminds you of your childhood)
Okay so young childhood, I used to listen to the audiobooks of Eugenia Lavender which were loads of fun, at the time. In "middle school" it was The Famous Five

2) ONCE UPON A DECEMBER (your favorite holiday read)
It depends on my mood. I love contemporary but I usually have more time for fantasy and the like. But I'm gonna be basic and say Harry Potter? Even though I don't really ever read them during the holidays, just watch the movies

3) IN THE DARK OF THE NIGHT (your favorite book villain)
I love anti-villains so does it count if I say Warner (Shatter Me) and Kaz (Six of Crows)? Or maybe Sebastian Morgenstern?

4) LEARN TO DO IT (the book you have learned the most from)
Eliza & Her Monsters by Francesca Zappia

5) PARIS HOLDS THE KEY TO YOUR HEART (your favorite book set in Paris)
What else am I going to apart from Anna & The French Kiss? I mean what did you expect!
---
HAVE YOU SEEN THIS MOVIE? DO YOU LOVE IT? WHO'S YOUR FAVOURITE CHARACTER? WHAT ARE YOUR THOUGHTS? I'D LOVE TO KNOW!
xo