TO ALL THE BOYS I'VE LOVED BEFORE // movie review ft. me absolutely adoring this with my entire soul
OH MY GAWD I ACTUALLY HAVE NO WORDS!!!
okay I have many but they're mainly squeals and shrieks and me just not knowing what to do with myself
It delivered everything I could have wanted and more I just,,,, it's all perfection and I just ahhhhhhh

REASONS WHY YOU SHOULD WATCH TO ALL THE BOYS NOW:
 where have you been? Have you not heard everyone's screams?
 it's on Netflix
 the romance is everything
 Lara Jean!! Kitty!! Peter K!!
 The fashion
 Sister dynamics
JUST ALL OF IT WATCH IT NOW!!!
Here's the trailer if you're still not convinced!


I LOVE THE CAST THEY ALL DO THE MOST AMAZING JOB
The sets are so beautiful
It captures the whole vibe and feel of the book and has its own uniqueness
I just love the cast and how they play the characters
This movie makes me so happy omg I can't even
They're all perfect
The soundtrack is also epic
It's so funny!!
MY HEART IS CONTENT
I recently reread the book so check my review here
Chris: she's JUST SO GOOD. I loved her whole character. She's a great friend to LJ and I liked her way more than I did in the books.
Dad: he's just so sweet and cool. I really loved the scene with him at the end but will get more into that in a sec
Genevieve: I hate her with the passion of a thousand suns… okay that's harsh but she's a total be-atch and I really really dislike her. How one person can be so mean is beyond me.
Margot: I actually liked her more than in the books. I really didn't like her in my reread but I really like the actress and she was much better in the movie
Josh: Josh is Josh. He irritates me but I do like his friendship with the family and he's a sweet guy but still annoys me…
Lucas: he doesn't play a big role in the books but he did in the movie and I WAS LIVING FOR IT! He's SO FUNNY and I just adored his character and thought he made an excellent friend for LJ.
Kitty: I LOVED KITTY. That little girl got her spot on and she would be who I imagined in my mind. She's hilarious and I just,,
Peter K: Is it enough to say that Noah has stolen my heart? He did the MOST INCREDIBLE JOB and is perfect as Peter. I HAVE NO WORDS. There are certain facial expressions that just flabbergasted me at how Peter they were. I adored him and just ahhhhh
Lara Jean: I too have also fallen in love with Lana Condor's performance. She fits the character so well and gets her personality spot on. I relate to her so much and just have no words.
Welcome to the part where I basically just scream about every scene and how much I loved it
Also, I have no idea how to format this because I took "reaction" notes so just,,, #help
So we're immediately introduced to LJ with her imagination and Kitty being… Kitty. Instantly in love from that scene obviously. It starts out pretty much how the book does and the whole Korean food that sucks from their dad is great! Since when does Josh meditate though? I found that SO FUNNY.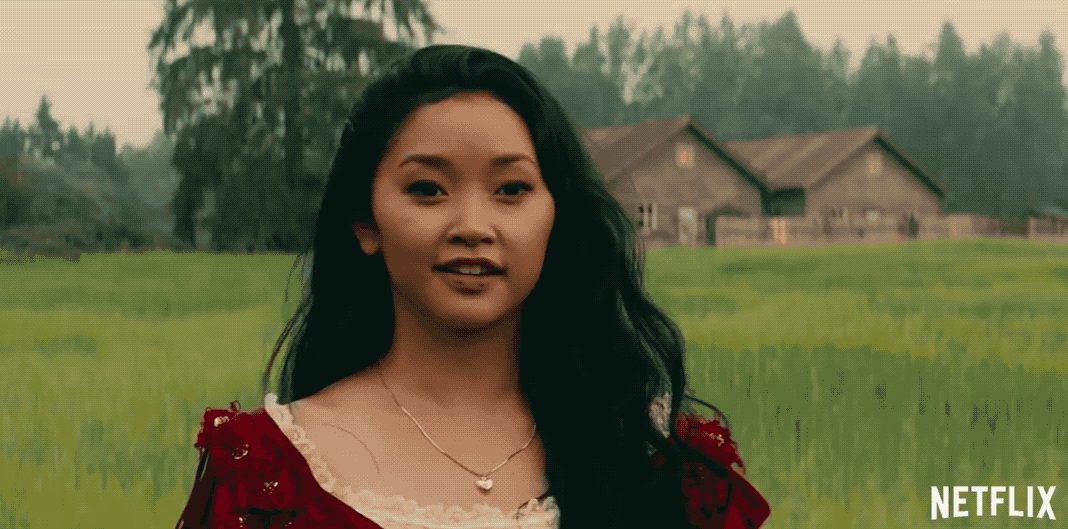 I loved how the scene at the movie theatre and there was just this random couple making out and it covered like a third of the screen, for some reason I cracked up at that. Josh and Margot's relationship was done really well and it stayed very true to what happens in the books.
I LOVED HOW THEY INCLUDED LARA JEAN'S DRIVING!! And of course the HELMET OMG I CAN'T EVEN!! Kitty is just,,, that doesn't happen in the books but Kitty would totally do that to LJ.
I've said it many times before, but I literally HATE Gen. But literally, the actress did such a good job of being a mean girl. I literally wanted to wring her by the neck and really would like to ask my sweet one Peter why he even went out with her?? I kept asking myself why Peter didn't just snatch that scrunchie and be like NO IT'S NOT YOURS. When Chris says "… those… ugs" omg I wanted to high-five her, Chris is amazing. Her shoes are amazing okay Gen BACK OFF.
Even though I don't really like Josh, I said from the beginning just to hang with him at recess because he is a good friend. But I still wanna know whose album they were listening to!
The whole scene in the parking lot is amazing. Omg then Kitty says "good thing I'm wearing my helmet" I love it! And then when Peter says to Kitty "you're in charge" omggg can't even.


I loved the whole Golden Girls marathon scene. It's all just so good I can't deal ahhhhh. "That was way harsh Kitty!" "The truth hurts Lara Jean" SO FUNNY!
I loved Jenny's cameo. She got like a 10 second scene and as soon as I saw it I was like "AHHH LOOK IT'S JENNY HAN!!!!!!!!"
LJ FEINTED OMG I,,, That whole scene is just SO GOOD. The dramatic music and the dialogue. I love how Peter goes "never gonna happen" ha you KNOW NOTHING BOI!! The one thing I noticed was that when she wakes up she's completely relaxed like I'd freak out.


I absolutely loved Lucas. He doesn't play a big role in the books but he was just done so well. The whole bathroom scene is so good and then at the end at the ski lodge. Literally couldn't stop laughing.
The whole scene where Lara Jean gets home and starts talking really fast about the hatbox is also just great. She literally goes "i hate everybody"!! And the whole moon day and Kitty's response is just great.
The first diner cafe scene is perfection. The face LJ makes when Peter says "hey covey" is priceless. Also Peter is so jealous he wasn't the only one who got a letter because he's been in love with her for years YES I KNOW I'M ACTUALLY A RELATIONSHIP ADVISOR AND SPECIALIST.
"secret tattoo on your ass" OH MY LORD I CAN'T DEAL WITH YOU PETER K!!

I'm just going to warn you right now that I'm going to start screaming about my love for Peter and Lara Jean's relationship just so you know!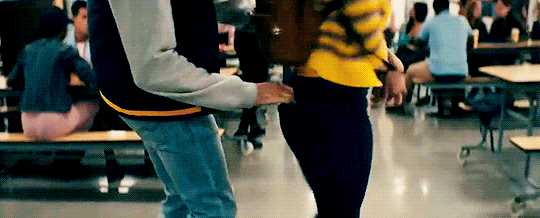 I loved the contract scene. Peter actually loves movies though so don't kid yourself. The whole jean pocket spin is just EVERYTHING! Can I date Peter now?? Gen's face is so priceless, even my dad snickered at that.
AND THE DRIVING TO SCHOOL SCENE JUST!! It's almost identical to the book scene and I love every moment. The drink and the whole "you can call me Katherine" I just,,,
Can I just scream at you about how much I love this one line Peter has that is pure perfection from the angels above, he literally goes "progress" and I LOVE IT SO MCUH YOU DON'T EVEN KNOW!!!!! Another thing I loved is when they're actually watching the mvoie and HE MOVES THE POPCORN SO AS NOT TO SPILL I CAN'T,,,
The party scene is excellent. I love the music and the entire scene with the phone background is perfection. Peter is the purest of pure. He has this smile that is just so PETER – it's in the baking scene and IT'S SO GOOD!!


The whole diner scene afterwards was also great. Peter was SO FISHING FOR A COMPLIMENT but I loved how they added some more serious conversations so that the relatinship could flow nicely. Peter is also literally obsessed with LJ and he doesn't even know it I TOLD YOU I WAS A RELATIONSHIP EXPERT.
The whole bleacher scene was so weird but I also feel like if we ever did overhear one of their conversations in the book it would've been something like that. And Chris's eyes going all big cracked me up ahhh
I loved the ski trip SO MUCH! As I said I loved the scene with LJ and Lucas and the hot tub scene OMG IT WAS AMAZING!! The kiss!! And just everything!!


The entire drama afterwards with Gen and how they're both kinda jealous just takes me back to the frustration from in the books. I understand it but also hate it??
I loved the scene when Margot gets home! And I really liked the scene when Peter tries to explain himself even though I would've liked to see the whole Christmas party they have. The one that I truly don't like is that Peter really does make out as if he still loves Gen. He could've literally just said what he was doing at Gen's room instead of the whole 'we have history' which he does in the books as well.
The Kitty/LJ fight scene(?) was SO GOOD I CAN'T EVEN!! I loved it ALL. The "5 chances were better odds" and the unicorn and "before you murder our sister" AHH SO FREAKING HILARIOUS I LOVED IT!! I also don't mind that they changed why Kitty sent them out. I really loved all the changes they made because it worked.
One thing I picked up was the scene with LJ and Gen in the bathroom, is it just me or was that not the same actress? She sounded so different and you never saw her face??
I loved the scene with LJ and her dad.
I adored the ending scene. How Peter doesn't hesitate to say "i love you" warms my heart and the line "are you gonna break my heart covey?" is also lovely! The music fitted so well too!!


And then obviously the John Ambrose scene! There better be a sequel! I'm sure there would be but just AHHH!!

MY FAVE SCENES IN GIFs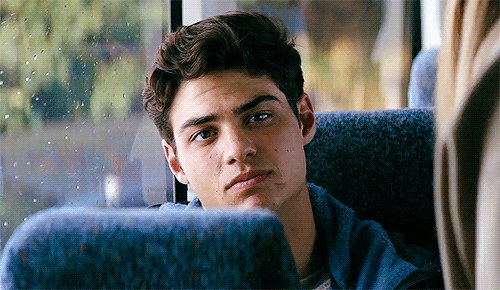 FAVE SONGS FROM THE SOUNDTRACK
I Like Me Better (Lauv)
Human Right (The Strike)
Beautiful (Viigo)
Nadir (Tender)
This / That (Jaffe)
Lovers (Anna of The North)
Cool Out (Matthew E. White)
When I Dance With You (The Pains of Being Pure at Heart)
THIS MOVIE IS AMAZING WATCH IT NOW SO WE CAN GET A SEQUEL!!!!!
I just loved it so much. I've seen it 4 times and plan to watch it again soon and I just can't express my love for it. The characters, the cinematography and just ALL. OF. IT!!!
I've been listening to the soundtrack non-stop and am SO OBSESSED. It's all so well done and I'm just so glad everyone is loving it and giving the attention it deserves!
---
DID YOU WATCH THIS MOVIE? WHAT WERE YOUR FAVE PARTS? WHO ARE YOUR FAVOURITE CHARACTERS? HAVE YOU READ THE BOOKS YET? DO YOU PLAN TO NOW? I'M DYING TO KNOW!
xo