TWEET CUTE BY EMMA LORD // blog tour book review: the best YA rom-com ft. snarky banter and baking
I am so excited to talk about this book OH MY GOSH.
Achievement reached: I actually read this before the release date!! Which is new for me because I'm such a mood reader and am always late. But yes ACCOMPLISHMENT.
And as you read in the title, this book was just such an unexpected favourite. I was totally taken by surprise, having heard next to nothing about this book apart from a pitch on Instagram. And I knew I needed to read it. And boy did it not disappoint.
But without any further ado, let us just get into how brilliant this book is.
A huge thanks to St. Martins Press & Wednesday Books for inviting me to join this blog tour!
Title: Tweet Cute
Author: Emma Lord
Page count: 368
Date published: 21 January 2020
Genre: Young Adult contemporary

♥
Synopsis:
Meet Pepper, swim team captain, chronic overachiever, and all-around perfectionist. Her family may be falling apart, but their massive fast-food chain is booming ― mainly thanks to Pepper, who is barely managing to juggle real life while secretly running Big League Burger's massive Twitter account.
Enter Jack, class clown and constant thorn in Pepper's side. When he isn't trying to duck out of his obscenely popular twin's shadow, he's busy working in his family's deli. His relationship with the business that holds his future might be love/hate, but when Big League Burger steals his grandma's iconic grilled cheese recipe, he'll do whatever it takes to take them down, one tweet at a time.
All's fair in love and cheese ― that is, until Pepper and Jack's spat turns into a viral Twitter war. Little do they know, while they're publicly duking it out with snarky memes and retweet battles, they're also falling for each other in real life ― on an anonymous chat app Jack built.
As their relationship deepens and their online shenanigans escalate ― people on the internet are shipping them?? ― their battle gets more and more personal, until even these two rivals can't ignore they were destined for the most unexpected, awkward, all-the-feels romance that neither of them expected.
♥
Buy yourself a copy by clicking here!
♥
STAR RATING (5 out of 5 stars):
♥
Thank you to Netgalley & St Martin's Press for the eARC copy. All thoughts and opinions are my own.
As I mentioned, I'd literally heard NOBODY talk about this book. I was just on Instagram one day when somebody pitched this book as a modern-day You've Got Mail retelling… and I needed it. I'd just recently watched the movie and for some reason couldn't stop thinking about it idk why. I'm a mess.
I was so blown away and captivated by this story. There I was, absolutely OBSESSED and could not stop reading. I started and finished it in like under 24 hours. Who am I? As soon as I finished I tweeted out (hehe look I'm PUNNY! I'll see myself out) that the author deserved a huge round of applause. I was gobsmacked and flabbergasted at how well this book was done.
YA rom-com contemporaries recently have turned into all fluff and don't really have much substance. But this book is such a good blend.
We've got funny witty banter that is LOL-worthy but also this layer of depth to each of the characters as they have real teenage struggles. Another aspect of YA contemporaries is how you can tell that it was written by an adult. But not with this book, I'm about the same age as our main characters, I can safely say that the teenage rep was spot on. It DID NOT feel as if an adult was imagining they were a teen. The book is just so young and fresh.
Also, internet culture in this book is NOT cringe-y. I didn't want to internally die because when pop culture or cellphones was mentioned it felt natural. But OH MY GOSH IT WAS SO GREAT IN THIS BOOK. I related to so many of the references and ahh just loved it all.
AND WOW THE WRITING!! WAS SO GOOD!! It was super easy to read as I read it so fast but it was also just so clever and I don't know how many times I'll use this word but WITTY. I just?? How did you do it Emma Lord??
Literally a round of applause to everything.
Ethan: is Jack's twin brother (who's also gay which is so great), and causes Jack to feel overshadowed, which obviously brings so many layers to his character. He has a very… interesting relationship with his brother. I can't say I liked him because the guy could be annoying but he's not a terrible character.
Pooja: she's basically Pepper's rival at school and they also have a very interesting relationship. Her character is really well fleshed out, especially for a side-character. And you grow to like her.
Jack: our main characters are so great and easy to understand and relate to. He likes to crack jokes whenever he doesn't know what else to do #relatable. But he's also very dedicated and determined. Jack is just a precious cinnamon roll who needs a hug. I'm happy to oblige.
Pepper: you expect such a character to be uptight and annoying, well SHE'S NOT! I just… how did I relate to BOTH main characters? I like to do well at school, I hate getting low grades, so I loved that aspect of her character. But I also loved when she was her relaxed self because I'm the exact same. I loved her tweets too omg!! How are these characters all just so well-written AHHH!!
We also just need to take a second to chat about the really complicated family dynamics. Pepper's sister fell out with their mom and they haven't been talking for years. Pepper's mom is also basically forcing her to tweet at this small business and throw aside her intense study schedule. And then Jack has his issues with his brother and this huge family responsibility. He doesn't really want to take over the business. There's just A LOT ™ going on. And it's really interesting and adds another layer to the story.
I hate to be that bish but … this book has SO MANY LAYERS. LIKE AN ONION. *insert appropriate gif here*
The book is also told in both their POVs which was also so well done, I was never once confused because both of their narratives were so profound.
And, oh my, THE FOOD!! Omg!! MOUTHWATERING!! Pepper (and her sister) run a baking blog and I need to make me some of their delicious weird treats. SO GOOD OMG!! I think I need to share a recipe or two *runs to ask author*
🍰 Emma Lord just posted the MONSTER CAKE RECIPE!!
Also THE ROMANCE!! We haven't talked about it yet. Jack and Pepper's relationship develops in such a soft way. We have the aspect of the two anonymously chatting on the Weasl app and then the Tweet war in real life. The two just have such great chemistry, it develops slowly and then all of a sudden you're so invested and just *chefs kiss*. We couldn't have asked for more.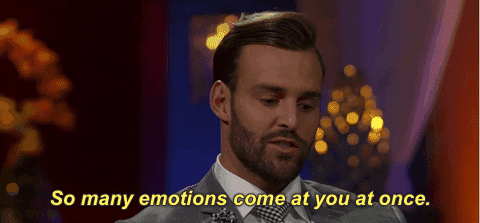 These are minor spoilers but I wanted to include a small list of scenes/moments I loved. So like slide into my dm's when you read this book *wink wink*
The pool scene
The party scene
The Girl Cheesing scene with Pepper near the end
THE ENDING (which is perfection btw)
Emma Lord is a digital media editor and writer living in New York City, where she spends whatever time she isn't writing either running or belting show tunes in community theatre. She graduated from the University of Virginia with a major in psychology and a minor in how to tilt your computer screen so nobody will notice you updating your fan fiction from the back row. She was raised on glitter, grilled cheese, and a whole lot of love. Her sun sign is Hufflepuff, but she is a Gryffindor rising. TWEET CUTE is her debut novel. You can find her geeking out online at @dilemmalord on Twitter.
♥
Add this book to Goodreads or preorder on Amazon & Book Depository by clicking the links!
---

HAS 'TWEET CUTE' BEEN ON YOUR RADAR? ARE YOU LOOKING FORWARD TO READING IT? HAVE YOU READ IT YET? WHAT ARE SOME OF YOUR FAVOURITE CONTEMPORARIES? I'D LOVE TO KNOW!
xo