THE FOLKLORE BOOK TAG // matching masterpiece songs with books (kinda) ft. all the heart eyes for the new taylor album
So we can collectively agree that this is Taylor's best album yet, right? And this is PURE MASTERPIECE GENIUS?
Coming from someone who isn't the biggest Swiftie. I really enjoy her but her music have always been something I listen to for a bit and then I move on? Not in a bad way, I'm just not a big pop listener. I go through spurts you see.
So when the internet started freaking out and I saw the title I knew that this was going to be MY ALBUM. And it is.
Anyways, I want to give a big thanks to Ilsa, the creator and who is like a whizz and idk how she got it up so fast. But also am obsessed that you did this. Thank you for tagging me, as well as Olivia & Nimika, who are both lovely and I love you all a lot.
Also, you're cheating if you're doing this tag and NOT listening to folklore. It's not a competition, I know, but I don't make the rules.
THE RULES
Link to the original creator: Ilsa @ A Whisper Of Ink
Tag at least 3 people.
Declare the rules and list of prompts in your post
Thank whoever who tagged you and link to their post.
The intro to this song is lowkey iconic and I love the piano and strings (I shall say that too many times in this post, I apologise).
♫
Illuminae by Amie Kaufman & Jay Kristoff
Wow starting this tag with the most basic answer ever. PLEASE feel free to @ me and call me out on my basic taste. However, this book and this series really was the first that came to mind to answer this prompt. Because the twists in this book had me SHOOK and I,,,  speechless is an understatement tbh. My mind could not KEEP UP with all the shiz that went down in this series.
THIS!! FREAKING!! MUSIC!! VIDEO!! Truly as the lyrics say, I get all the Neverland vibes. And I adore this song s
o much. Taylor's voice sounds so good and the lyrics are *chefs kiss* The production is just as good and JUST AHHH.
♫
Eliza & Her Monsters by Francesca Zappia
I actually struggled to come up with something here so idk if this counts. But this book means a lot of me and I love it a lot, it's relatable and I love the story, but it's also sad. So it kinda works? I tend to cheat whenever I do tags whoops. I've been wanting to reread this book for ages, and as we know 2020 is my year of rereads. It's official and I should get a banner or something?  But I never related to a character as much as I did to Eliza, I also loved the relationship between her and Wallace. All the squishy feelings, but it also deals with serious topics. It's just… so good.
This song is super cute, loved the beat and it's catchy. Not my favourite, but I do enjoy it.
♫
Daisy Jones & The Six by Taylor Jenkins Reid
Totally hijacking everyone's Evelyn Hugo answers but didn't want to seem like a copycat so I'm being a rebel and breaking the rules. When do I not tbh? But this book is one of my faves, and it's told in such a unique way that really works for the story. Also, love that we chose a Taylor answer for this Taylor book tag. Amazing and iconic. This book felt so real, which I take as a sign that it's fascinating and well-told. My explanation is rather boring oh well. Read it if you haven't I guess?
I know everyone loves this song, so Imma have to be slightly controversial and say it isn't one of my absolute favourites. It's beautiful and the lyrics and piano ARE STUNNING. I would love to learn to play it. But I don't adore the ending of the song? It got too much for me. Idk why. Don't hate me, please.
♫
The Gentleman's Guide to Vice & Virtue by Mackenzi Lee
Again, please don't hate me. It's not necessarily one I WISH I hadn't read but eh? I read it ages ago, bought it in hardback and everything, and looking back I didn't actually love it? It's not a favourite nor did it leave a lasting impression, so it wouldn't mean much to me if I never read it in the first place? So yeah, moving on. No offence if you like it, I like historical fiction and the time period but just not this one?
This song is one of MY ABSOLUTE FAVOURITES!! It's so pretty and sad (obviously, tears are in the title). But I guess I like the more melodic and soft songs?
♫
Clockwork Princess by Cassandra Clare
I'm sorry again for this basic answer but I lowkey couldn't think of anything else. And this book ALWAYS makes me sob uncontrollably. Even just thinking about this series makes me want to yeet off this planet. Okay, why did I just say that? Feel free to click off the post. Welp. Yeah anyway, I don't have much else to say but I love this series, it's like my all-time favourite. Okay bye.
This song is so?? unique? Idk how to describe it. It isn't my favourite of the album but I get why everyone likes it. Again, lyrics, but most of all the vocals. Taylor's voice is just so pretty!
♫
Anne of Green Gables by L.M. Montgomery
I almost said a curse word because I for the life of me couldn't come up with an answer to this question. Literally wtf, I'm dumb. Eventually, we obviously settled on this, because I didn't want to repeat myself in this tag. But this book has like ALL the elements I love: the setting and the language, the characters are amazing and I just… SUCH a good book. I love the rivals-to-lovers romance and it all just works so nicely. In this household, we love children's classics and I highly recommend this one if you haven't read yet.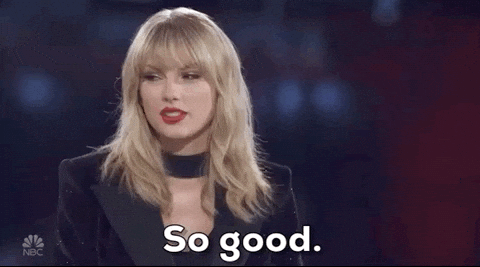 THIS SONG IS GOD TIER AND IF YOU DISAGREE I WILL FIGHT YOU. Just ahhh it's by far my favourite and just *insert keyboard smash* I LOVE IT A LOT. The vocals and the instrumentals are perfection and I want to cry.
♫
The Famous Five by Enid Blyton
For some reason, I'm forgetting every other book I read in my childhood before I read this series. The only others coming to mind are Roald Dahl? So idk if this is the correct answer, because if I asked my parents they could probably give me a million books I loved as a child. I remember one I read about A Duck In A Truck, that's probably its title too lmao. Just look up whatever books were popular in London in the early 2000s and I've probably read them all. I read this series a bit later when it was 12 and I talked about in my booktube newbie video, so we'll be short: this series that got me into reading and I don't have much else to say. I was obsessed and read it way too many times. K cool moving on.
Idk why but I really want to use the word atmospheric to describe this song?? It's such a lovely and melodic song <3<3
♫
Heartstopper by Alice Oseman
My mood reading doesn't really allow me to have a set seasonal tbr and I never know what I'm going to read. Like ever. It's a fun game my mind and I play. You need to read this specific book, Ruby? Sorry mate, not today.
This was the best that I could come up with and the third volume, which I haven't read yet, is set in summer, so there we go. We're just going with the flow today. I NEED to get my hands on that third volume, just waiting for shipping situation to get better, ya know? But this series, you've probably heard of it oh well, is the definition of cutesy and wonderful and marvellous. That was a lot of adjectives hi hello. However, I hear more hard-hitting topics start being discussed in volume three so. Ending this rambly answer now. NEXT!
We love the drums in this number and the wow it's very sad but also relatable. 'This is me trying' sums up this entire post for me.
♫
Beach Read by Emily Henry
There are probably multiple other books I could've chosen to answer this but apparently, I don't want to shut up about this book? Do you see how we're flowing? But also, one of the things that I thoroughly loved about this one was HOW it dealt with grief and the very heavy undertone of sadness that it had, whilst also being balanced out with the more happy, cutesy romance moments which is what I look for in a romance novel. So yeah, this one is a great book. Go read it.
This song is SO GOOD. And so very sad and melancholic but so stunning. The lyrics are amazing and I love this one a lot. Also for some reason, it gives me serious Regina Spektor vibes, idk if anyone has listened to The Call but I was struggling to nail where I'd heard a similar song and that was it.
♫
A Conjuring of Light by V.E. Schwab
Eeeppp if we're being honest, it's been so long since I've read a book that put me in so much pain™ that I couldn't pick up another book. Except like Chain of Gold but I've already mentioned CC and also talked about it in my mid-year freak out so skipping that. But this book was PURE GENIUS?? I was enjoying the series but this book CHANGED. THE. GAME. Made me full-on obsessed with ADSOM and also just V.E. Schwab and her writing in general. It was just wow mind-blowing and I struggled to find another good book after I read it.
This STRINGS (!!) in this song are truly slapping and we love to see it. I ADORE this song, it's so well made and flows so well. I aspire to sing like this. TAYLOR'S VOICE!!
♫
Since You've Been Gone by Morgan Matson
Before you get out your pitchforks, please hear me out. This book is arguably not the most amazing thing out there BUT the reason it means so much to me is that I read it at a time I needed it most. Not in a cheesy way I promise. But I picked up this book on a whim and it was so surreal to read a book where I felt like I was going through EXACTLY what the main character was going through. Like weirdly exact, I was going through a similar friendship situation as the MC Emily (is that her name? idk). This book is in no means perfect, like the cheating is not cool, but because I felt so comforted and seen, it will always mean a lot to me. Okay, sappy story over.
This song is one of my absolute favourites of the album eeepp! I love how badass and feminist it is. AND THE INSTRUMENTALS AHHHH!!!! Seriously so great. And ooh I actually want to go with two answers for this one because I've been desperately wanting to use the other as an answer welp.
♫
Dani from Take A Hint, Dani Brown by Talia Hibbert
Dani is a recent favourite character but she was just the best?? I just loved her a whole lot and thought she was a brilliant badass character. I loved how forceful she was, but also successful and confident. She's bisexual and so funny and amazing and it was great. I'm slowly testing out adult romance and although this book wasn't 5-star for me, it was still very good.
Katniss from The Hunger Games
I feel like I'd be betraying myself I didn't mention THG at least once. And I'd be disrespecting my queen if I didn't say Katniss. You don't need an explanation as to why she's here. All the ladies from this series could go here, I love Johanna and Prim and Rue. They're all so amazing. I need not say much more.
Taylor really is going full classical in this album and I'm not mad about it. The orchestral ensemble in this song is next level UGH.
♫
The Picture of Dorian Gray by Oscar Wilde
I am a scaredy-cat and stay away from scary books, so this is all I could come up with. It is a really scary and a creepy premise, the book is about selling your soul for beauty and eternal youth. It's a gothic classic and I had to read it for school, which I actually would rather not have done because it can sometimes take away the enjoyment. But this is all I could think sksksk.
This song is SO MUCH FUN OMG!! It's the most "pop" and also "country" of the album and it's truly a masterpiece of storytelling in songwriting, as there's SO MUCH to unpack. Love the outro to this song btw. And I have THE BEST answer.
♫
Alex and Henry from Red, White & Royal Blue
This song is very gay so that is why I think this fits perfectly. I read my favourite parts of this book when I feel sad and it instantly lifts my spirits. They're my serotonin *wink wink*. But also this story is freshly in my mind, because, can you guess? I RECENTLY REREAD IT! Whoah, we're all shocked. But these two BREAK ME. And they give me ALL THE FEELS. I love them a totally normal amount okay. STOP JUDGING ME!
The bass in this song is what gets me though.
♫
Gansey from The Raven Cycle
Yes, this is a Blue cosplay but both Gansey and I love her so I'm going with it. HELLO, I LOVE SIR RICHARD GANSEY THE THIRD WAY TOO MUCH! Yes, you guessed it, I reread this series. Yes, I need to get my reading life back on track. Moving on to MY CHILD. Like it's not even funny how much I love him. Gansey is like a real person in my mind and I lowkey got mad at everyone who was giving him nonsense. I didn't know that I still had these FEELINGS but I apparently I'm still the trashiest of trash that there is. Do with that information what you will but you cannot break the bond I have with my baby. Also, don't get me wrong, I love all the raven boys but Gansey is… Gansey. Enough said.
Taylor keeps coming through with these brilliant orchestral numbers and I,,, want to live in them. I'm a sucker for classical music, yes I am an old person. It's fine. That piano melody IS SO BEAUTIFUL!! And Taylor's voice in this one GIVES ME GOOSEBUMPS OOF!!
♫
Only Mostly Devastated by Sophie Gonzalez
I'm sorry if this post is repetitive, I feel like I've been talking about how disappointing this book was but it's fresh in my mind. I had all the high hopes for this book and I thought it was going to be amazing and hit all the buttons: Queer Grease retelling with High School Musical vibes? I was ready. But then I ended up not enjoying it at all and it,,, didn't hit the buttons. I don't want to linger on it too much because I hate being negative about books and you might like it. But yeah, this was 2 stars for me and I rarely give 2 stars. Just didn't do it for me, unfortunately.
And there we have it. Ilsa thank you for making my brain hurt because these questions were lowkey hard. My brain hasn't been working well recently so it could be that lmao. No shade Ilsa. It's not you, it's me.
FAVOURITE SONGS!! (peep the cute edit I made – see Instagram!!)
So I guess I need to tag people? Okay let's tag some friends who I known have been listening to the album, but feel free to consider yourself tagged if you want to do it:
Now leave me to listen to the album in peace. Jk, that was a joke. Maybe.
---

HAVE YOU LISTENED TO THE ALBUM YET? WHAT ARE YOUR FAVOURITE SONGS? WHAT ARE YOUR OTHER FAVE TAYLOR SONGS? HAVE YOU READ ANY OF THESE BOOKS? LET ME KNOW!!
xo