MOVIES TO WATCH THIS CHRISTMAS WHILE YOU'RE STUCK AT HOME // distracting yourself part 3: a short list of my favourite (kinda) Christmas-y movies
Hello hello, my reindeer friends, merry Christmas to those who celebrate or happy holidays!
Welcome to the unexpected third addition to this smol series of mine. It is not as long today, which could either be a good or bad thing. This was just a spur of the moment idea that I super loved. And because the world is still in a state, we all need to maintain social distancing so please for the love of the planet, WEAR A MASK, PEOPLE!!
Click for the previous instalments:
So if you're a bit lonely this holiday season, I've got your back with some of my favourite Christmas movies. They're not all technically Christmas movies, some of them just have wintery vibes or have a Christmas scene. But nonetheless, they're some of my faves so let's jump into it.
*crickets chirping*
First up we have The Hunger Games. Because the second movie has about 5 seconds of snow. Lmao if I didn't want to embarrass myself, I would actually do that. Now let's really get into it.
not exactly a Christmas movie but the VIBES
🎄 🦌 🎁 ⛄
Anastasia

Okay, this isn't technically a "Christmas" movie, as it doesn't actually involve Christmas in any way. BUT it is set in December. One of the songs (and probably the best) is literally called Once Upon A December. So I'm cheating and mentioning this film. It's my post and I can do what I want.
I literally just rewatched it for this blog post because I missed it. I used to LOVE this animation film as a kid, had it on DVD and everything. So yes there is nostalgic value but also IT IS ICONIC. I mean which genius decided to fictionalize the story of the lost Anastasia? I could never.
The characters are absolutely superb and I would 1000% give my life for Anya and Dimitri. I also forgot that Meg Ryan and John Cusack were the voice actors and !!!! Ugh, it's just so good and such an underrated animated movie. And the reason I think it belongs on this list is that though it is slightly dark, it's also so wholesome and definitely has the Christmas vibes.
I also forgot that I even wrote this until now but I actually did the Anastasia book tag. Don't read it though because it's probably terribly written.
Available to stream: Disney+ | HBO
Fantasia
I honestly don't know if anyone else has watched this film but I remember watching it over and over again with my family. And the reason it's on here is mainly because of the Nutcracker scene.
For those who don't know, it's also an animated movie but from my memory (I could be wrong) it doesn't have any dialogue. And if not, then very little. But it's basically animated ballet and if you want something easy and calming to watch, this is definitely a good pick.
It's also from the 1940s which 12-year old me had no idea about. There are some really great dance scenes, like the Nutcracker, but as well as a Mickey Mouse, ponies and a very frightening scene that I remember involves heaven and hell. Have fun, my friends.
Available to stream: Disney+
The Chronicles of Narnia: The Lion, The Witch and The Wardrobe
I promise this post isn't just me screaming about all the movies I loved as a kid. Okay, actually it is but oof I ADORE THIS MOVIE. Basically the whole franchise. Though the first one has the most and only Christmas vibes.
I honestly don't know how to describe it. I haven't read the books yet, though I do plan to at some point. But ugh these movies, the first one, in particular, is one I could watch over and over again. It just has this… cosy, homey feel to it? Though it is about children travelling to an unknown world which is lowkey very scary and I'd never survive. But you know you what I mean.
I just love all the siblings and the visuals AND THE SCORE! It's got action and fantasy and SNOW. And one of my absolute favourite battle scenes. It's all perfection. I also think the second movie is great. The third is also good but I don't rewatch it as much. If you've never seen them then you definitely need to. Take a day, watch 'em all and it'll be a great time.
Available to stream: Disney+
You've Got Mail
Yeah yeah yeah blah blah blah Ruby talks about this film far too much. Would you get over it already?!?
I know I'm hilarious but it is true, I do want more people to watch this movie. Even though it's very popular, I especially think you'd all enjoy it because it involves BOOKSTORES and VIRTUAL CHATTING. Like I think this movie contained the origins of the online book community and I think we all owe this movie our lives so GO WATCH IT.
Lmao no I'm kidding but it's so lovely. It's from the 90s and the vibes are already there. We've got romance. And Tom Hanks. And most importantly Meg Ryan (yes hi) and that's basically all you need to know. I've also explained it too many times at this point hehe.
You could also go watch Sleepless In Seattle, which is this duo's film debut together which takes places over New Years but I don't like it as much as this one. Oh and also When Harry Met Sally which doesn't have Tom Hanks, but there is a Christmas as well as New Year's scene.
Available to stream: Netflix SA | CBS Amazon | HBO Max
The Cutting Edge
Ah, I literally ~JUST~ watched this and wow is it underrated. Or rather I'd NEVER heard about it before but it's SO GOOD?!?! It could be the adult romance I just read rubbing off but who cares. I'm here to scream about this 90s gem in case you hadn't heard about it already.
I know next to nothing about figure skating but I've always been fascinated by it and admired the sport. Like I could NEVER. And especially pairs skating which like,,, bro I'd die. Anyway, it's basically about this very intense female skater, played by Moira Kelly who I really love, that doesn't have a partner because she doesn't want to work with anybody. Love it. Our male lead is a now ex-hockey player as he suffered an eye injury (idk if that's what it's called) but wants to get back on the ice and they… well they kinda work. Even though they don't really like each other. So it's enemies to lovers and BOY IS THE BANTER GREAT. I haven't come across a lot of great movie banter but those insults were A+ lmao
Anyways, there is a Christmas scene so it counts. And there's some great music. It's quite slow but I didn't mind and was very much entertained. Definitely recommend if you haven't seen it until now either *wink wink*
Available to stream: Hoopla US
Rise of The Guardians
I'm sorry I did this film a huge injustice because I had to check Letterboxd to remember what I thought of it. Jack Frost, I give you permission to whack me over the head with your staff.
I gave this movie 4.5 stars apparently which is rare for me on there. I don't give out high ratings a lot. And also yes Jack Frost is very attractive, it had to be said before I get serious.
This movie is so criminally underrated? Or maybe it wasn't in 2012 and we've all just forgotten about it? But it's been 8 years so it needs to be talked about again. I LOVE animated kick-butt movies. And if it involves special abilities? Then basically I'm in heaven. And this movie has it all. It's about all the holiday… creatures? Not sure how to describe them but basically it's Santa, The Easter Bunny, The Tooth Fairy, and The Sandman. And Jack Frost who nobody likes but it is a BEAN. And there's an evil guy and all the Guardians have to join forces and defeat him. That was a brilliant explanation but I don't want to give away too much.
Just go watch it. It's great. Trust me.
Available to stream: Netflix SA | Showmax | Hulu | HBO
the actual "Christmas" movies
🎄 🦌 🎁 ⛄
Let It Snow
Apparently, I actually don't have all that many Christmas movies to recommend welp. But I did watch this one when it came out last year and just ahh it was so heartwarming.
I've never read the book and though I do own it, I've heard meh things so. Anyways, I watched the adaptation and I really enjoyed it. I don't think it's the peak of cinema but in comparison to the other Netflix Christmas films, this one is pretty good. Like literally there is some TRASH on there, especially I'm sorry but those Vanessa Hudgens ones, they look awful. I've been tempted to watch but,,, then I back out of the cringy-ness.
This is like a teen version of those Holiday mash-up films that have about 4-5 storylines going on. And some of them I didn't care about, but overall it was super sweet. I especially liked the one with Kiernan Shipka and Mitchell Christy, which is a friends to lovers lil romance.
If you haven't seen it, then I do recommend for a like chilled out but also sweet holiday movie.
Available to stream: Netflix

Elf
This is a classic and very basic movie recommendation but oof it's just too good not to be on this list.
It's just one of those classics you can't help but go back to over and over and will always love and probably get at least a few laughs out of.
I mean it doesn't get any MORE iconic than Will Ferrell, now a grown man, being whisked away as a baby and then raised by elves, to then be sent back to the city to find love and friendship amongst normal people. Like, come on.
I'm super picky about comedy and I don't like obvious humour, where it's forced or unnatural, but I do really like Elf. I find it not too ~unbelievable~ ya know. It's really well done in terms of humour. It's actually rather… heartwarming? in a way. And I think it really carries that Christmas spirit. Which sounds cringey but I don't know how else to describe it.
Also, Zooey Deschanel is in it. That's all you need to know. Go watch for smiles.
Available to stream: Netflix SA | Starz

And that's it my friends. Before I go, I thought I'd just share a smol list of movies on my watchlist because why not. Indeed you are allowed to shame me for not having seen these yet:
The Holiday

The Family Stone

How The Grinch Stole Christmas

Home Alone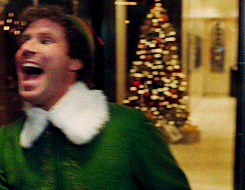 ---
WHAT ARE YOU DOING THIS CHRISTMAS? DO YOU HAVE ANY TRADITIONS? WILL YOU BE WATCHING ANY MOVIES? WHAT ARE YOUR FAVOURITE CHRISTMAS MOVIES? HAVE YOU SEEN ANY OF THE ONES I MENTIONED? LET ME KNOW!
Happy reading
xo
YOUTUBE // INSTAGRAM // GOODREADS // TWITTER // PINTEREST // LETTERBOXD // KO-FI