ONE OF US IS LYING SEASON 1 & 2 // spoiler-free tv show review: a perfect teen mystery you will binge in two days ft. drama, cute romance and all the fun
This post has been in the drafts for far too long so thank the heavens I'm actually getting around to it.
I honestly do not remember how to post film reviews even though I'm a film major. I choose to ignore that detail. Anyways, I'm going to shoot my shot here because I really want to yell about this show. I have absolutely no idea what I'm doing but giving it my best folks, just bear with me.
Quick disclaimer: this is mostly going to be about season two because it's been a hot second since I watched the first season. And I don't plan on spoiling any major plot points, I'm not an awful person about to ruin your fun.
Let's get into it!
CASTING & CHARACTERS
I literally have one complaint about this show and it's that some of these actors look like they're 30. Nothing against them because their performances are great but I struggle to picture them as teens #sorrynotsorry. Casting is accurate and inaccurate at the same time and I don't know what to think.
Aside from that, they all did a great job and what I love is that the cast feels so connected to their book characters, especially Janae, love them! I haven't read the book in a while, only the sequel when that came out, so I don't remember much about the characterisation, but I found that each of the actors embodied their characters really well.
Simon: this actor wow!!! He's so evil and creepy but you also want to root for him and it's exactly what he needed to be. Gold star for you sir!!!
Janae: they slowly grew on me and I do love a goth gay *sighs*
Vanessa: adding her here because oof she boils my blood and unfortunately we just do not mesh
Cooper: He has a STUNNING scene in season 2 and if you know which one I'm talking about, then please let's yell about it. Coop never was my favourite character but I love his queer sports storyline. Chris is amazing also <3<3<3
Addy: I also never really cared for Addy but as the show has gone on, I love how they've really showcased her as being like… not sure how to say this… but strong female energy? If that makes sense? She just starts off pretty meek until she becomes a girl boss and we love to see it.
Nate: Nate is the most accurately cast and I always had a soft spot for this boi so, of course, I adore him. I'm basic, please do roll your eyes at me.
Bronwyn: always my fave and yes I know she's annoying but also hah academic validation goodie-two-shoes,,, relatable. Adore her to shreds and I love the romance between her and Nate because I am a predictable human welp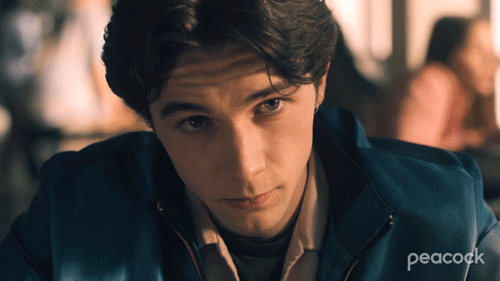 These actors all have great chemistry also, and I adore the friendships they establish!!! Love a fictional friend group that solves crimes together *insert heart eyes*
CINEMATOGRAPHY, PRODUCTION & SOUNDTRACK
These elements make or break an adaptation in my opinion, but this show lowkey blew it out of the park. The script and the plot are really well done, not cringey or annoying nor do they make you feel dumb. The show is really mature and actually takes itself seriously which I love.
It's shot really well, the colours are great and the set design is fab. Idk where that school is but it's awesome and serious props to Peacock!!! I mentioned the soundtrack not because I remember any songs from it but because it stood out as not cringey. Pretty sure there are some big numbers in there like Phoebe Bridgers, Harry Styles, Lil Nas X, Olivia Rodrigo and Halsey whilst also keeping it really indie with artists I don't recognise at all.
Have I mentioned they deserve a round of applause?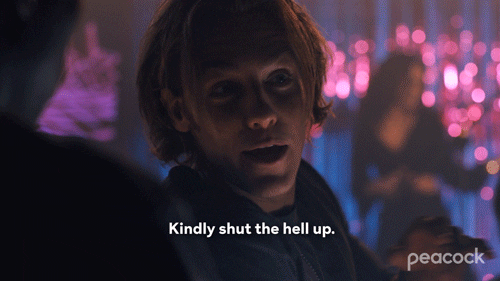 PLOTLINE & MYSTERY EXECUTION
The first season is mostly accurate to the book, at least from what I can remember. They might have changed small reveals and things like that, but I didn't notice anything that made me upset. But what I love most is how they play with each of those reveals: they come up but it doesn't overdramatise each cliffhanger. That sounds counter-intuitive but for instance, when something is revealed, sometimes the plot will go with that but other times it's just swept under the rug and I found that worked well for a mystery show. You need to pay attention to small details, and the show wasn't doing that for you.
What I also loved about this structure was how quickly I sped through the episodes. You can literally watch a season a day, which is what happened to me. Even though they don't end every episode on this giant cliffhanger, I still kept watching because the mystery construction stood well on its own. It was full of drama but it wasn't in a way that made it feel unrealistic which I think a lot of shows about teens tend to do. I'm thinking Pretty Little Liars which I remember would end on a big cliffhanger to keep you watching (not a bad thing, love those gals) but One of Us Is Lying is more subtle and I appreciated that.
In terms of the actual mystery, I pretty much knew what the first season was about since I read the book. I didn't remember how everything went down but I did know who killed Simon. However there is a twist at the end that is not in the book and I was nervous about how that would play out for season two, but I loved it just as much. I had absolutely no idea who the culprit was and was thoroughly shocked, whereas I don't think I was as interested in the mystery plot last season because I knew who to look at. So I think they did a great job! This season was a ride and I was happy going with it.
That finale was quite something and ah I'm intrigued by the new season!
OVERALL THOUGHTS
Show: One of Us Is Lying
Stream: Peacock / Netflix SA
Seasons: 2
Big thanks to Penguin Random House South Africa for sending me the tv tie-in edition of One of Us Is Lying by Karen M. McManus! All thoughts and opinions are my own.
🔍
I just thoroughly enjoy this show and I wanted to yell about how I impressed I am. It's obvious I loved it, right? The show is well-produced, acted, scripted, soundtracked and stands up really well as a teen show. It's diverse, realistic, not full of cringey lines and actors and will just keep you on your toes. Truly a great time and I highly recommend if you love the book or have never read it, it's fun either way *wink wink*
Also, Nate and Bronwyn are stunning <3<3<3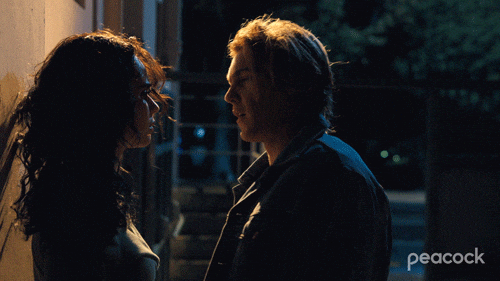 K that's all I have to say and I hope you enjoyed this slightly new style of post from me? Let me know what you think of this style of post because I do have others I could talk about *wink wink*
---
HAVE YOU SEEN ONE OF US IS LYING? OR HAVE YOU READ THE BOOK? WHAT DID YOU THINK? DO YOU AGREE WITH ME? WHO ARE YOUR FAVOURITE CHARACTERS? WHAT SHOWS HAVE YOU BEEN WATCHING? LET ME KNOW!